Our chemical division is dedicated to supply variety of
chemical mixtures and substances to the printing, pharma,
household and PVC industries in Bulgaria. Synthesia is working
with first class producers of materials for the chemical industry.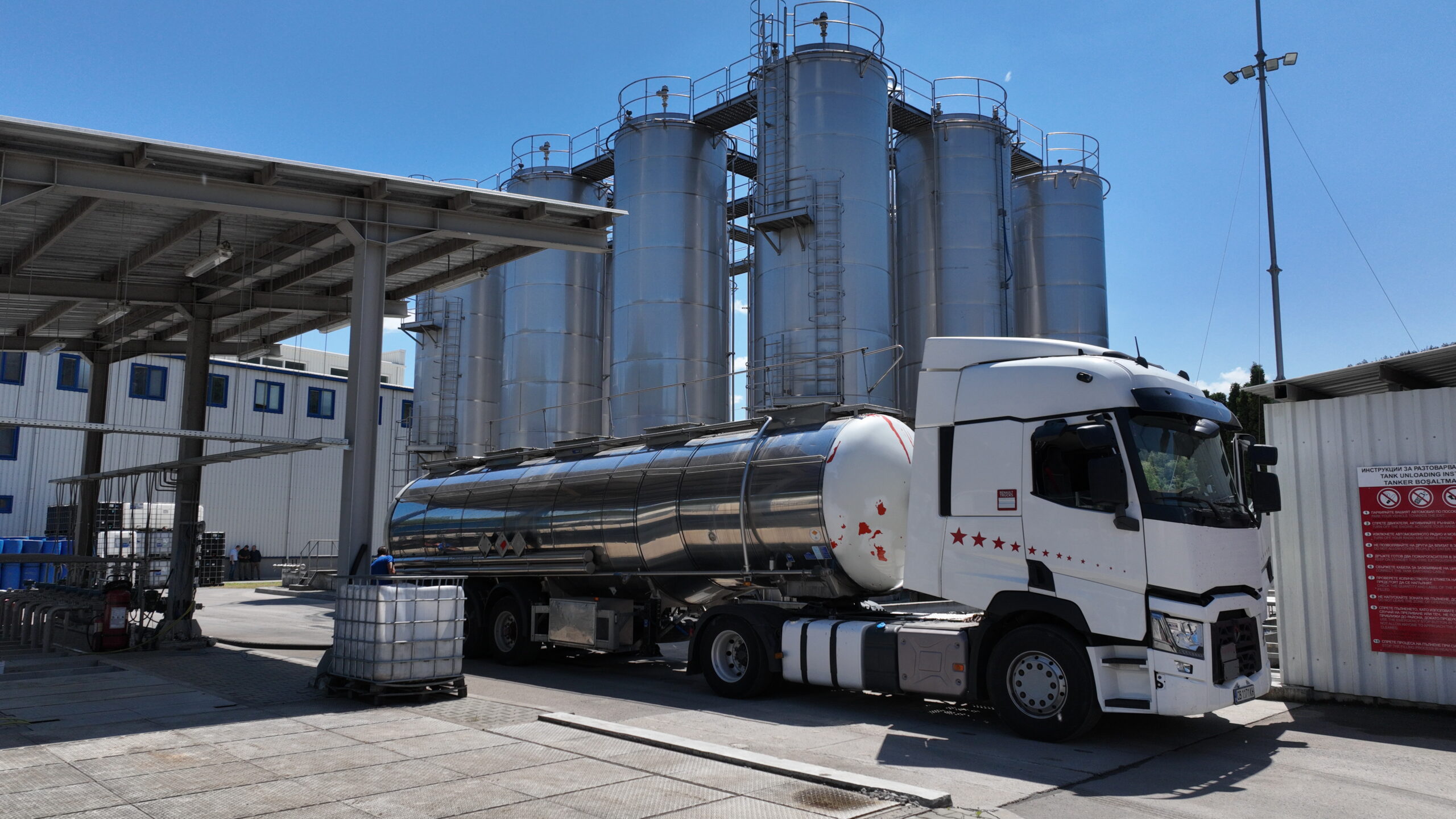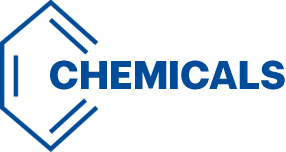 Acetic acid food
This acid is one of the main ingredients and one of the most used in food technology, since its existence has been known, it has been very popular in food preservation.
Acetic acid pharma
A colorless pungent liquid acid which is the principal acid of vinegar, and which is used especially in synthesis (as of plastics) and sometimes in medicine as an astringent and astringent.
Acetic acid technical
It is used in the rubber industry, leather and textile industry, food industry, paints and medicine.
Ethanol (denatured)
Ethyl alcohol is the most important class of organic compounds called alcohols. Even when mixed with the same amount of water, it burns with a pale bluish flame. It is used in chemistry, printing ink, packaging, paint and other industrial sectors. It is an important compound in industrial production.
Iso Butanol
Isobutanol is used for organic synthesis; latent solvent in paints and varnishes; intermediate for amino coating resins; paint removers.
Iso Propanol
Isopropyl alcohol is a colorless, low-boiling liquid with a slight odor and is completely miscible with water. IPA is used as a solvent for essential and other oils; alkaloids, resins, resins, etc.; latent solvent for cellulose derivatives; coating solvent; Deicing agent for liquid fuels; varnishes; extraction processes; dehydrating agent; denaturant.
Methanol
Methanol is used as a raw material in the chemical industry for the production of a wide range of value-added products: medicines, synthetic fibers, varnishes and paints, synthetic resins, automotive fuel additives, formaldehyde, dimethyl terephthalate, antifreeze. Methanol is also used for chemical synthesis, denaturant for ethanol, dehydrator for natural gas, fuel for domestic installations.
N-Butanol
N-Butanol is used to produce esters; solvent for resins and coatings; plasticizers; hydraulic fluids; detergent formulations; melamine resins.
N-Propanol
A clear colorless liquid with a sharp musty odor like rubbing alcohol. Used in making cosmetics, skin and hair preparations, pharmaceuticals, perfumes, lacquer formulations, dye solutions, antifreezes, rubbing alcohols, soaps, window cleaners, acetone and other chemicals and products.
Methylene Chloride
Methylene chloride, also called dichloromethane, is a volatile, colorless liquid with an odor similar to chloroform. Methylene chloride is used in a variety of industrial processes, in many different industries, including paint removal, pharmaceutical manufacturing, paint stripper manufacturing, and metal cleaning and degreasing.
Perchloroethylene
Perchlorethylene is a colorless, nonflammable liquid solvent with a sweet, ether-like odor. It is mainly used in industrial settings and also for dry cleaning of fabrics and degreasing of metals.
Butyl Di Glycol Acetate
Butyl diglycol acetate is used primarily in the paint, coating, and printing ink industries, where it serves as a high-boiling solvent, leveling agent, coalescent, and flow improver in paints, emulsions, varnishes, and textured coatings, and in inks, primarily for screen printing.
Ethyl Acetate
Ethyl acetate is an organic compound. This colorless liquid has a characteristic sweet smell and is used in adhesives, nail polish removers and in the decaffeination process of tea and coffee. Ethyl acetate is the ester of ethanol and acetic acid.
Iso Propyl Acetate
Isopropyl acetate is a solvent with a wide variety of industrial applications that is miscible with most other organic solvents and is moderately soluble in water. It is used as a solvent for cellulose, plastics, oils and fats. It is a component of some printing inks and perfumes.
N-Butyl Acetate
N-Butyl acetate is a clear, colorless ester. This organic compound has a variety of uses, including as a food flavoring agent, as a solvent in the varnish manufacturing process, in varnishes, inks, adhesives, and sometimes as a high-boiling solvent.
Butyl Glycol Acetate
Butyl glycol acetate is widely used in many industries. The most important application is in the coatings industry, where it improves the gloss and fluidity of coatings that must be fired at temperatures of 150 – 200 °C. In this application, its low volatility and good solvent ability are major advantages.
Iso Butyl Acetate
The chemical compound isobutyl acetate is a common solvent. It is produced by the esterification of isobutanol with acetic acid. It is used as a solvent for varnish and nitrocellulose.
Methyl Acetate
Methyl acetate is a carboxylate ester. It is a flammable liquid with a characteristic pleasant smell, reminiscent of some glues and nail polish removers. Methyl acetate is sometimes used as a solvent because it is slightly polar and lipophilic.
N-Propyl Acetate
The main use of N-Propyl acetate is as a solvent in the coatings and printing industries. Normal propyl acetate dissolves many resins, making it a suitable solvent for wood varnishes and industrial coatings.
Di Propylene Glycol
Dipropylene glycol finds many uses as a plasticizer, an intermediate in industrial chemical reactions, as a polymerization initiator or monomer, and as a solvent. Its low toxicity and solvent properties make it an ideal additive for perfumes and skin and hair care products.
Diethylene Glycol
It is used as an intermediate for polyester polyols, unsaturated polyester resins, buffet heaters, morpholine production, dyes and coatings, plasticizers, liquid detergent, cement grinding and polyethylene glycol. It is also used as a moisture preservative in the tobacco industry, as snow for airplanes and railroads, and as a thinner in the manufacture of adhesives.
Mono Ethylene Glycol
It is mainly used to produce polyester, fibers and five resins. Because it has a low freezing point, it is the main area of use of the automotive industry in coolants and antifreezes, brake fluids, solvent fluids, cellulose ester and ethers, cosmetics industry, varnishes, paints and alkyds, ink industry.
Mono Ethylene Glycol - Tech
Monoethylene glycol is a vital ingredient in the production of polyester fibers and films, resins and engine coolants. End uses range from clothing and other textiles to packaging to kitchenware and antifreeze.
Mono Propylene Glycol
It is used in organic synthesis, especially in propylene glycol and polyester resins, in cellophane and antifreeze solutions. It is used as a solvent for oils, greases, waxes and resins. It is used in flavorings, perfumes and light syrups. It is used as a coolant for cooling systems. Used in hydraulic fluid. It is used as a balancer in the textile industry, a solvent and a wetting agent in the food sector, medicine and healthcare, especially for molds and fungi, in sunscreens, in creams. It is used as an ice inhibitor on the braking systems of vehicles, airways and aircraft.
Triethylene Glycol
Triethylene glycol, TEG or triglycol is a colorless viscous liquid. It is used as a plasticizer for vinyl polymers. It is also used in air disinfection products such as "Oust" or "Clean and Pure". When aerosolized, it acts as a disinfectant.
Butyl Di Glycol
A clear, colorless organic compound and glycol ether used as a solvent in the coatings and paint industries.
Butyl Glycol
A high-boiling, low-volatile liquid with a slight odor, which is used as a solvent and starting material for syntheses. Excellent co-solvent in aqueous coating systems (water-based paints).
Toluene
Toluene is primarily used as an industrial raw material and solvent in some types of paint thinners, permanent markers, contact cement, and some types of adhesives.
Xylene
Xylenes are used as a solvent in the printing, rubber and leather industries. It is a common component of ink, rubber and adhesives.
White spirit
White Spirit is a conventional aliphatic liquid with a flash point of 40oC. These aliphatic products are well suited for a variety of applications including agriculture, consumer products, paints and coatings, graphics and reproduction, and many other industrial applications.
Acetone
Solvent for paints, varnishes, adhesives and inks, as well as for vinyl, acrylic and cellulose resins. Intermediate product for the synthesis of pharmaceutical products (vitamins) and cosmetics.
Cyclohexanone
Cyclohexanone (ONE) is an important raw material for the promotion of caprolactam (CPL). It is used as a monomer in the nylon industry.
Methyl Ethyl Ketone
Methyl Ethyl Ketone is a fast evaporating solvent that can provide faster drying times in coating applications.
Methyl Iso Butyl Ketone
Methyl isobutyl ketone (MIK) is used as a solvent for vinyl, epoxy resin, acrylic, natural resins, nitrocellulose, paints, varnishes, lacquers, protective coatings, extraction of rare metals and dyes.
Disanonyl phthalate (DINP)
Diisononyl phthalate is a phthalate used as a plasticizer. DINP is generally a mixture of chemical compounds consisting of different isononyl esters of phthalic acid, and is commonly used in a wide variety of plastic products.
Dioctyl phthalate (DOP)
DOP is a plasticizer used in the production of PVC plastic. DOP has good resistance to heat and UV light and a wide range of compatibility for use with PVC sheets. DOP is also a solvent for many chemicals, such as in glow sticks.
Dioctyl terephthalate (DOTP)
DOTP is used in applications such as extrusion, calendering, injection molding, rotational molding, dip molding, slurry molding, and coating.
Trioctyl trimellitate (TOTM)
Trioctyl trimellitate (TOTM) is a clear oily liquid with a very mild odor. It is a primary branched monomer plasticizer for vinyl homopolymer and copolymer resins that has extremely low volatility.
Diisodecyl Phthalate (DIDP)
Diisodecyl phthalate is a commonly used plasticizer used in the production of plastic and plastic coating to increase flexibility.
Epoxidized soybean oil (ESBO)
Epoxidized soybean oil is a collection of organic compounds derived from the epoxidation of soybean oil. It is used as a plasticizer and stabilizer in polyvinyl chloride plastics. ESBO is a yellowish viscous liquid.
Di Methoxy Propanol (DPM)
Medium to slow evaporating solvent. It has 100% solubility in water and is ideally suited as a binding agent in a wide range of solvent systems.
Ethoxy Propanol
Ethoxypropanol is a clear liquid that has a characteristic ether-like odor. It has the formula C5H12O2 and is water miscible, hygroscopic and also provides good solubility for a wide variety of substances including resins, inks and adhesives.
Methoxy Propanol (PM)
An organic solvent with a wide variety of industrial and commercial applications. It is used as a carrier/solvent in printing/writing inks and paints/coatings. It is also used as an industrial and commercial paint remover.
Methoxy Propyl Acetate (PMA)
Methoxypropyl acetate (also known as PMA) is a clear liquid that has limited miscibility with water. It is a solvent of medium volatility with a slight odor and has the formula C6H12O3.